Adventures in Maharashtra!
Maharashtra is no longer just the commercial hotspot it is famed to be. Breathtaking sights of sheer beauty mark the length and breadth of this beautiful state- the imposing Sahyadris, with their steep hair-raising cliffs, sprightly waterfalls, snaking their way through ridges, mist shrouded forests which are the home of many exotic animals, are the diverse elements which make up this state.
---
Major Adventure Activities in Maharashtra
Rock Climbing & Trekking
The Karla mountains, probably dating back to 160 BC, harbour the largest cluster of Chaitya caves. Their sheer rock faces provide the appropriate terrain for a rock climber to reach up to the white, fluffy clouds. Another popular adventure spot could be at Bhandardara. Bhandardara is 180 kms by road. It has one of the most beautiful lakes in the country surrounded by majestic hills. You can go off on long treks around the surrounding hills like Ratangadh, a favourite fort of Shivaji or Kalsubai, the highest peak in Maharashtra, to the sprightly Randha falls or to Amriteshwar, a 1200 year- old temple.
Various forts in the Sahyadris also provide a good base for trekking activities. Forts around Pune like the Sinhgad,Lohagad, Visapur, Shivneri, Purandar, Rajgad, Raigad etc. are some of the few forts. Besides this Pratapgarh near Mahabaleshwar, Panhala near Kolhapur and Torna near Bhor are other exciting options. There are various clubs and private institutions which organise trekking expeditions on a regular
| | |
| --- | --- |
| There is good news for water sports lovers too. MTDC and various private clubs have introduced water sports at various lakes, areas near irrigation dams and the coastline. Imagine the rush of water and white foam coming up as you kayak or windsurf in these clean waters. Aqua sports no longer need be the preserve of a privileged few. Panshet Aqua sports centers located 40kms near Pune has various activities like speed boats, water scooters, kayaks, and windsurfing. Esselworld at Gorai near Mumbai is an amusement park with roller coasters and water slides. Here is another place near the scenic Bhor Ghats. | |
Esselworld
Location
At Gorai Village on the outskirts of Mumbai.It covers 64 acres of thrill and adventure. It is the largest amusement park in India.

How to reach there:
From Mumbai there are following options to reach Esselworld.
1) By Ferry-From Malad Rly. Stn.
Take a bus or auto to Marve Beach or from Borivali to Rly Stn to Gorai creek. From here Esselworld's own ferries are available to take you across.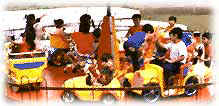 2) By Road
Take the western express highway.
Turn off onto the Bhayander road, after Dahisar check naka on the highway. From here onwards, it's a winding, 17km semi ghat road to Esselworld. Easy to follow signs are there.
3) Direct bus services are also provided by Private Tour Operators
Water World at Pune-Khopoli Highway also provided a large number of water sports activities.
Sailing
A legacy of the British, sailing has been kept alive by diehard enthusiasts who have made sailing the most established water sport in the country. The main centres are Bombay and Pune.
PUNE, has a number of picturesque lakes where you can go out windsurfing, like Pawna, Panshet, Mulshi and Khadakvasla. Equipment is available only at the Khadakvasla Lake. Windsurfing on the crystal clear water of these lakes is a unique experience. In the summer months, you can get some super-sonic rides on these fresh water lakes. Do not venture too far as the wind here can drop without giving any notice and you may take hours to sail back a distance which took only a few minutes when the wind was strong. Rescue is not available except if you are sailing out from the Khadakvasla windsurfing centre.
Exploring the Wild Life
Maharashtra is known for its rich collection of wild life both flora and fauna. The forests abound in varied vegetational types which make for extremely scenic land scapes. Chikhaladara near Nagpur is full of deep valleys and is home to Melghat tiger project and Dhakana-Kolkaz National Park.
Melghat is famous for its Tiger and a greater part of Project Tiger is being implemented here. Other animals like Panthers, Bison, Sambar, Chital and the flying squirrel are familiar sights.
Another wildlife sanctuary which is known for its verdant hills and dales, is the Nagzira Wild Life Sanctuary. Ambling around in these idyllic environs is the sloth bear, tiger, four horned antelope, the blue-bull, chital, barking deer, bison and the panther.
The most beautiful of the National Park in Maharashtra is the Tadoba and Nawagaon National Park.
The wild life here includes the Nilgai, large eyed Chinkara, Migratory birds and swarms of crocodiles. The Salim Ali Bird Sanctuary is a must for ornithologists and which is the home of winged birds like the golden oriole.
Paragliding
Tandem flights as well as paragliding courses are available for amateurs. Flight training schools are available around the Pune area. These have good safety records. The mountains of the Western Ghats allow for smooth sailing over vast stretches. Paragliding can be done near sea areas too, however mountain area altitudes allow for a better overall experience.
Flying and training is available by the Pavna lake, Kamshet (near Lonavala) with excellent flying conditions at all times other than monsoon season, right up to June first week. One could plan a day of fun and flying with their friends and family or enroll for the basic course!